2018 NASCAR Tours Dates Below:
Phoenix Las Vegas 2018 Brochure
Daytona Kentucky 2018 Brochure
November 2018 Brochure

the Aussie Dollar seems to have settled down so we have put together some exciting tours for 2016. Itineraries and prices are noted in the brochures above. contact us if you have any questions.
New tour attraction you don't want to miss!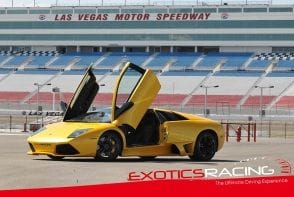 Get ready for "The Ultimate Driving Experience" of a lifetime! Drive 3 different exotic cars, all in the same day on a race track, 5 laps in each car at Las Vegas Motor Speedway, just 20 minutes off the Strip. Give yourself the opportunity to compare and contrast power and handling of the world's most exclusive supercars:
Audi R8 V10 - Engine: 5.2L V10, Gearbox: 6-speed R-Tronic, Power: 525hp at 8,000rpm - Torque: 391Nm, Top Speed: 196mph - Acceleration: 0-60mph in 3.7s
Lamborghini Gallardo LP550 - Engine: 5.2L V10, Gearbox: 6-speed E-Gear, Power: 550hp at 8,000rpm, Torque: 540Nm, Top Speed: 200mph, Acceleration: 0-60mph in 3.9s
Ferrari 430 Scuderia - Engine: 4.3L V8 - Gearbox: 6-speed F1, Power: 510hp at 8,500rpm - Torque: 470Nm, Top Speed: 199mph - Acceleration: 0-60mph in 3.6s
The 1.40 mile Exotics Racing raceway is the newest addition to the grounds of the world class Las Vegas Motor Speedway. This raceway was specially designed for Exotics Racing's supercars including a long straight away, 11% banking with fast and technical turns. The state of the art road course was validated by the official track designer for the Indy Car Series. A very unique experience, exclusively available at Exotics Racing!